All new registrations need to be approved manually. After registration, mail me at tyblossom at aol dot com.
ChaseChat is available for Smartphones via Tapatalk, Download the app at http://tapatalk.com/m?id=4&referer=1048173. After installing CLICK HERE to add the forum to Tapatalk.
Thread Rating:
The Wolf Returns - Part II
05-01-2014, 08:55 PM,
The Wolf Returns - Part II
READ PART 1 first -
http://www.chasechat.com/chat/?minglefor...pic&t=1362
... wait a minute! What if it is not an "X", maybe it is another letter? I pick up my flashlight and we head to the car and I attempt to humor Alex with the statement, "if at first you do not succeed, you are not Chuck Norris!" Tomorrow will be another day. It was difficult to get any sleep as I researched well into the night. I had previously thought this concept was silly but the more I thought about it, the more it made sense. I felt bad that I had ever said anything negative about it; sometimes it is best to keep my opinions to myself unless I am 100% certain.
The next day we wake up and head down highway 68 past the cemetery through Embudo until we reach Embudo station. This is just two and half miles south of the "funnel hills", which equates to 12.5 miles from the same warm waters halt location that we used yesterday. Why do I think this number is significant? Well, I recall a coin in the second package of Ranelle Jacobson's raffle prize. It seemed odd that it was placed in the prize package and on the other side is 12.5 cent value inscribed on it. Could this be a hint to how far too far to walk is? It seems to fit really well and at exactly 12.5 miles is a bridge that crosses the Rio Grande into the old Embudo Railroad Station. The concept that has me so excited is that this solution flows all into one and that there is key word that unlocks the entire poem and that key word is "train." Previously, I had rejected any solution that could ever have anything to do with trains, but when I viewed it from the key word perspective, everything changed since everything in this solution is linked to a train, even the word "warm waters halt" is linked to a train since "halt" is defined as a temporary train stop.
At the Embudo Rail Station there was once a mill to process ore from the Harding mine which is linked to the Juan A. Brown of Dixon who had an Iceberg claim at that mine. This is very convincing when you consider the writer Hemingway, whom is mentioned in the Important Literature chapter was the man who developed the Iceberg Theory of writing. In the chapter "Stout Hearted Men"; the song that they sang had a line in it "And I'll soon give you then thousand more" but Forrest omitted one word "ore" as in "more-ore" at the end of the sentence and I feel he did it on purpose as a hint to this exact ore processing mill.
The station has been converted to a brewery and I feel this brewery is the home of Brown Ale. Beer has never been discussed before as a link to the home of Brown but Forrest did say you "might want to bring along a six pack to help celebrate the thrill of a breath taking discovery". Also, in a story on Forrest's blog he made this quote: "As I approached the check out counter, a shapely twentyish-looking woman raced past me. Her pushcart was loaded with six-packs of Corona beer." Were these two statements a hint that beer or Brown Ale was a clue? If not I could still consider the concrete bridge that crosses the Rio Grande to also be the home of Brown Bat, since bats love to roost under bridges. Just below this bridge, we "put in" at a small dry creek bed which leads directly to where the old railroad station existed. This dry creek bed is the seventh clue "no paddle up your creek."
I have always speculated the trove and the contents were clues to its location mostly because both the contents in the chest were special to him and the location was also special. In the Joan London interview Forrest says:
"Part of me is in that chest and I am not talking about the autobiography, I am talking about part of my soul is in that chest, there are things in there that are very dear to me. In two thousand years when someone finds it I hope they put it in the Smithsonian and they put it on display and raise the lid and tell the story that happened two thousand years ago. Does that not get you excited?"
Since a piece of him is in that chest, it makes a lot of sense that there will somehow be a symbolic connection to the puzzle itself. With that said, this exact railroad station is located on the Black Mesa. Richard Wetherell discovered the turquoise beads that were eventually made into the special bracelet that Forrest wants returned to him. What makes this so interesting is that those turquoise beads were discovered at Mesa Verde or the Spanish translation is the Green Mesa. The chapter in the Thrill of the Chase called "Tea with Olga," Forrest talks about having three different colors of tea with Olga - black, red and green. We have two of the three colors, now I just need the link to red.
I enthusiastically explain to Alex the history of this railroad station and how Alex's great grandfather was once a railroad station master. I told him how I loved to run around and explore the station grounds and he would ask me to take the inventory numbers of the rail cars that were parked there. This conversation brought back fond memories and I hoped to convey the importance of this nostalgic moment with my son. He did not seem to be as excited as I was, but we really weren't here to reminisce; we were here to find that treasure. I explain to him that we now need to use our imagination. We have to imagine that the road leading back to the north along the Rio Grande was actually the original old Chili Line railroad tracks. Further we have to imagine going back in time when the steam engine was used to move the "heavy loads" of ore from the mill to the manufacturers in Denver. There once was an old steam engine named Canon Diablo that operated out of this station. What I found interesting is that Diablo is Spanish for devil. The word meek comes from the bible in a saying "the meek shall inherit the earth." The meek are god fearing people and anything that has to do with the devil is no place for the meek, thus we have our fifth clue along the route of our map of discovery. On the upriver side of the station is an old standing wooden railroad water tower dating back to 1881, believed to be the "water high" clue.
For a moment we discuss whether the trove is in this water tower to complete the hint "in the wood." Forrest once said in an email "why don't I just ride my bike out there and throw it in the water high." After a brief search, common sense prevails and we decide to really let our imagination flow. Forrest quoted Einstein in his book with the statement "imagination is more important than knowledge" which Forrest happen to misspell the word "knowledge" on one of his bronze jars. I interpreted that misspelling as a way of hinting that this is one of those important aberrations I was to be on the lookout for.
So we imagine hitching a ride on the Canon Diablo train and we follow the old Chili line, where "Chili" refers to the poem's "worth the cold", north bound along the old railway grade which is now a gravel road. Our imaginary train draws our heavy load of ore about a mile when we turn nigh and we once again look back like an owl and recognize the junction of the road and the railroad station as an "f" and not just an ordinary "f", but the "f" that he signs all his emails. I yell out, "this must be the blaze!"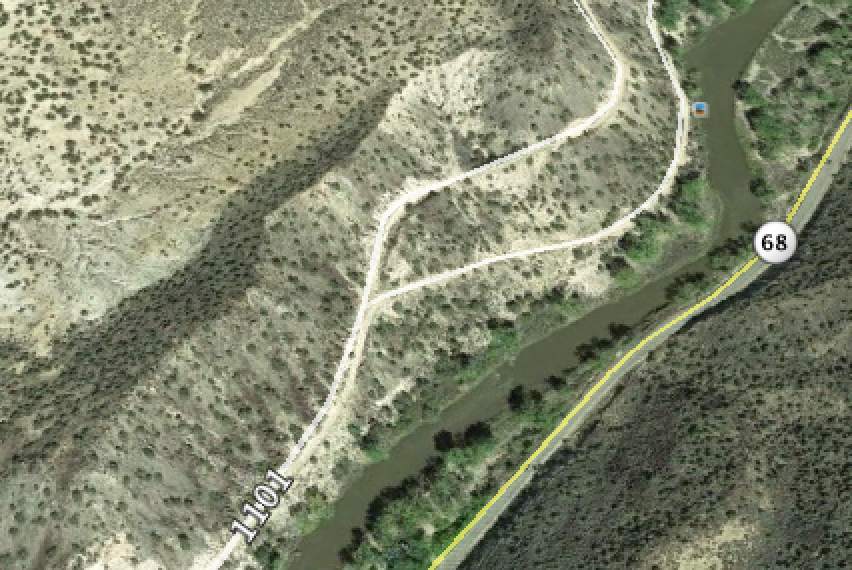 Our excitement escalates as we sense we are getting really close. We look down and our collective jaws drop. It can't be, this is what I have always envisioned as his special place. I remember writing Forrest an email about such a location and he usually doesn't respond but he seemed intrigued by my insistence on such a location and further more he said such a place was "too cold". Too cold was what convinced me that I was getting close; he must have subliminally sent me a hint of confirmation that I was on the right track (pun intended). After a brief moment of just staring in awe, we approach like zealots towards this amazing cave as it beckons to us. It is a manmade cave carved in sandstone and is one of the famous "Ra Paulette" caves which were highlighted on the Academy Award nominated "Cave Digger." I explain to Alex that Forrest said in the chapter Dancing with the Millennium: "Come and see my shining palace built upon the sand!" and how he, as a boy, used sandstone to make marbles in the story My Spanish Toy Factory. As we near the cave, I further explain to Alex that the man who made these caves does it all by himself, it takes several years to complete one of these caves and all he uses is a shovel and a trowel to create these amazing and artistic sandstone caves. He started making these caves right around the time Forrest was diagnosed with cancer and he was not well known outside the state of New Mexico until recently when the documentary came out.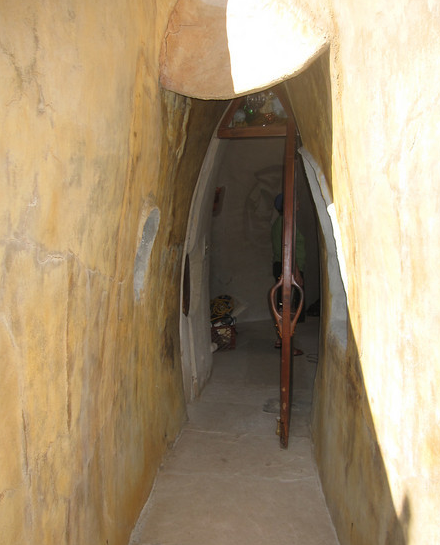 We are surprised that no one is around and that the door is unlocked, so we walk in and gaze around. This place is absolutely astonishing, we stare in disbelief as to how just one person could sculpt such extraordinary art by hand. I become at one with the power of this place and I immediately understand this is what Forrest meant by his special place. To die in something like this would be absolutely amazing- wait did I just say that?! Well, you get my point. We climb the stairs and find a custom made bathtub made of ceramic tiles.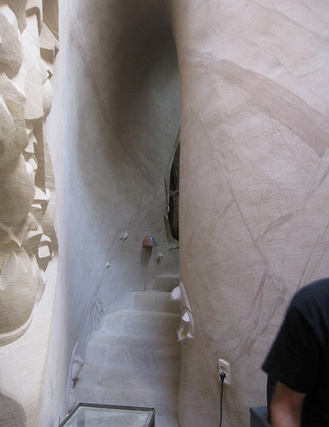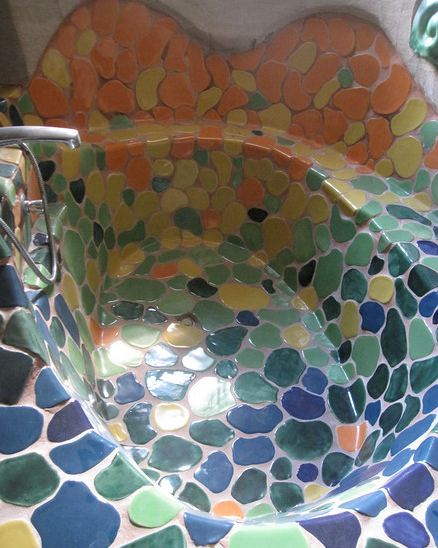 This is no ordinary tub; this tub is a mosaic tile tub that consists entirely of rainbow colors. So this is what he hinted at when he said " ... will lead to the end of my rainbow and the treasure!" When I look down underneath the tub to the first floor I am drawn to the main hard wooden floor with a darker circle right under the tub.
Say it isn't so! The treasure must be "in the wood," the wooden floor under that dark circle. Sure a circle makes perfect sense, an "X" would be too obvious but the T.S. Elliot circular reference is a perfect hint. I don't even take the time to think how he managed to place it under there as I grab the ice axe and I raise it above my head. Alex cries out " No don't do it!" and before he could finish I struck the floor chipping out a large piece. I start to swing frantically as I seemingly transformed into Jack Nicholson in the movie "The Shining". Small pieces of wood were flying everywhere and Alex said I looked like one of those wood chippers used in the move "Fargo." I finally break through and I hear a metal on metal sound as my axe stuck the dirt. We desperately remove the dirt from around the object. We suddenly freeze in awe for a brief moment. We cannot believe our eyes; this is it! I gently pulled the round egg like object out of the uterus like soil. This jewel encrusted egg was no ordinary egg ... it was an alien egg! "Wolf ...Wolf ... Wolf" . I can hear a distant God like voice, fuzzy at first, becoming louder and clearer. "Wolf wake up, you are having a nightmare" my wife was shaking me and I realize that this was all a horrible dream. "What were you dreaming about," she asked. "Nothing, nothing at all, can't remember, you know how dreams are ...," I respond very nervously.
I lay back in my bed and stare at the ceiling and give a huge sigh of relief and I am grateful that I woke up just prior to staring into that beam of light and getting my face melted off, like that Nazi Gestapo agent in the Raiders of the Lost Arc. I wonder what is happening to me; why am I having such strange dreams and why are they all about Forrest Fenn? Then I give a little smirk as I realize that I am back living the thrill of the chase.
I consider the meaning of this weird dream and the alien egg, which is a really crazy idea that some fanatic or "fennatic" kept insisting that he rejected the trove because it came from the uterus of an alien in the form of an egg. I conclude that a person's imagination can get the best of them when drawing up these solutions.
These two solutions that I have constructed may be considered clever in some areas but they are imaginatively stretched in others. I believe I was on to something with a common theme, but it just doesn't feel right. I also feel I am close but I still am not able to move with confidence. If I am ever going to solve this amazing puzzle, I will have to learn to not fall in love with my solutions and admit my mistakes despite the amount of work I have put into my research. I will need to tear up these solutions, forget about the past and start all over again. I grin and think to myself "Ahh what a feeling it is to live the victories and defeats of the chase; I wouldn't have it any other way!"
The Wolf
05-01-2014, 10:39 PM,
boomergirl
Posting Freak


Posts: 1,250
Threads: 19
Joined: Jul 2013
Reputation: 0
The Wolf Returns - Part II
if I find the treasure, I'm getting a tub like that
05-01-2014, 11:14 PM,
deb
Posting Freak


Posts: 3,067
Threads: 30
Joined: Dec 2013
Reputation: 0
The Wolf Returns - Part II
Rofl! Dang had me wondering there for a second. I love how you worked that into your story.
Shhh they aren't listening.
05-02-2014, 03:44 AM,
samsmith
Posting Freak


Posts: 1,449
Threads: 5
Joined: Sep 2013
Reputation: 0
The Wolf Returns - Part II
Good tale Wolf...hope you enjoyed the trip...Now, lay off the shrooms!...
05-02-2014, 06:05 AM,
The Wolf Returns - Part II
Ok, I think I have clearly been talking too much on this forum. The Embudo area was going to be my next place to search. You got it almost right, Wolf. But you got the wrong HOB and totally missed the real blaze. My solution may or may not get me any closer to the treasure than you were, but at least you didn't totally invalidate my solution. Good storytelling too.



mdavis19
05-02-2014, 04:46 PM,
The Wolf Returns - Part II
Mdavis - Thanks but don't worry I never got a word of this from you - in fact I don't ever remember you giving anything out at all. You are too cryptic! ;-)


05-02-2014, 04:52 PM,
The Wolf Returns - Part II
It didn't take long before I got a reply from Jay Ackam (our alien guy) warning me of the dangers of recovering the chest. I was just having some fun with him but he is pretty serious about those evil sprits and Alien eggs. Thanks Jay for making life more interesting. ;-)

The Wolf
05-02-2014, 06:30 PM,
The Wolf Returns - Part II


<div class="bbcode_quote_head">Quote:
<b>Quote from The Wolf on May 2, 2014, 5:46 pm</b>

Mdavis - Thanks but don't worry I never got a word of this from you - in fact I don't ever remember you giving anything out at all. You are too cryptic! ;-)
</div>


Ok, that's good to know. Sometimes I look aback at my posts and am shocked at how much I shared. I've actually edited a few. Looking at your story it's like you were reading my mind and notes, up to a point. I'm not going to be too specific about where you diverged from my idea, other than to say that you had the wrong Brown, and to get where you were, you had to drive right past my best guess at the blaze. Since you didn't mention it, you must not have made the connection. It is a bit of tongue in cheek on Forrest's part if it is correct.



mdavis19
05-02-2014, 06:31 PM,
The Wolf Returns - Part II


<div class="bbcode_quote_head">Quote:
<b>Quote from The Wolf on May 2, 2014, 5:52 pm</b>

It didn't take long before I got a reply from Jay Ackam (our alien guy) warning me of the dangers of recovering the chest. I was just having some fun with him but he is pretty serious about those evil sprits and Alien eggs. Thanks Jay for making life more interesting. ;-)

The Wolf
</div>


Tell Jay that if the chest steals your soul, there's enough gold inside to buy a new one.



mdavis19
05-02-2014, 06:38 PM,
The Wolf Returns - Part II
I wonder what scrabble Alien eggs taste like. I bet they're Hot as Hell !!
Users browsing this thread: 1 Guest(s)
---
Powered By MyBB, © 2002-2020 MyBB Group.
Theme created by Marvel | Site Ported & Re-designed By: Naveen
Contact Us | ChaseChat - Treasure Chat | Return to Top | | Lite (Archive) Mode | RSS Syndication